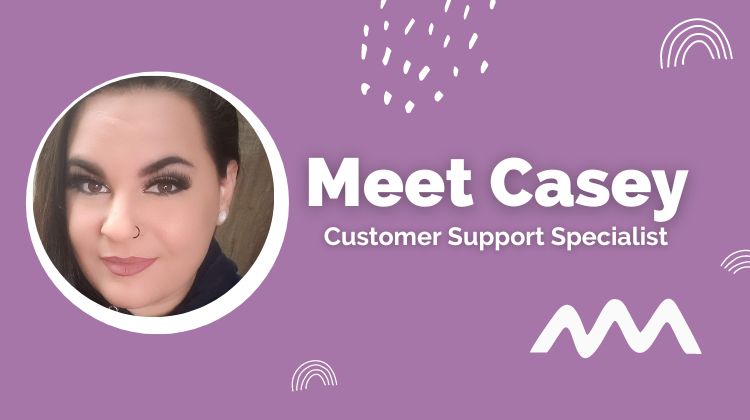 TEA-stimonial: Meet Casey Navarre
Meet Casey, Support Representative at Q Care Plus
Not only does Q Care Plus have a team of medical providers who have extensive, specialized backgrounds in patient care and HIV prevention, but we also have an amazing team of Support Representatives who help our patients thrive, answer their questions, and ensure that they are taken care of in between telehealth visits.
One of our team members, Casey, shared her story of working with Q Care Plus.
Let's Kiki
Q Care Plus: What is your background/what experience led you to this role?
Casey: I started my adventure in the medical field 10 years ago when I decided to leave the world of Corrections. I was a Lieutenant at a state prison in Southwest Louisiana, but I still had a yearning to make a difference in this world and leave my mark.
I needed a career change and always wanted to be in the medical field, so I enrolled in a local technical college and dove in. As a single mom of two munchkins, it was rough, but I stuck it out.
I have worked in emergency medical services (EMS) ever since. I was also fortunate enough to work for our Army on Fort Polk for 5 years as a medic on an ambulance.
10 intense years later, I am a mother of two teenagers, a widow, and am still doing the EMS stuff on the weekends.
Q Care Plus: How long have you been with Q Care Plus?
Casey: My weekend gig is to be the on-site medical provider with a local paper production mill where one of my coworkers mentioned Q Care Plus because they know the President, Quinton.
After looking into it, I was stoked at the idea of joining the company and being able to give back to the LGBTQ+ community.
Being able to be a part of providing PrEP so that people can have a freer sexual experience is awesome!
That was in May of 2021. I celebrated my one-year anniversary and am so proud to see the company grow the way it has!
Q Care Plus: What about the HIV Prevention space appealed to you?
Casey: I joined Q Care Plus with no prior work in telemedicine but a strong desire to change the world.
I've worn many hats and still do (I like it that way). From labs and Prior Authorization forms (which help insurance companies pay for PrEP) to directly helping our patients by responding to support emails and messages, I've become a jack of "most" trades.
I thrive in fast paced environments, so learning on the fly and adapting is a strong suit of mine.
My love to help people not only extends to my local community in EMS, but also to our amazing patients at Q Care Plus, and my fantastic co-workers!
Q Care Plus: What are you most proud of that you've accomplished in your role so far?
Casey: It's super exciting to see the growth and changes we are implementing as we grow and expand!
Hearing how appreciative our patients are and hearing some of the shortcomings of other companies in the Telehealth PrEP market keep me motivated to press onward and upward.
Not only do we provide quarterly testing and PrEP for our patients, but we also follow through with those who may test positive for an STI or otherwise. Not leaving them to navigate the often-scary world of a positive lab result sets us apart from the others. We are pretty awesome!
Q Care Plus: What sets Q Care Plus apart from other providers, in your opinion?
Casey: Our patients aren't "just a number" to us. I get to interact with them on a daily basis and they have come to trust Q Care Plus. They know they can rely on us and know they are in excellent hands!
I can't wait to see the future of Q Care Plus! "Onward and Upward! To Narnia and the North!" Yes, I am also a nerd.
Rapid Fire Questions:
What is your go-to Karaoke song? Anything by Adele or a good 90's ballad.
What show are you binging right now?  I am sooooo into Elite on Netflix! The dramaaaaa!
Coffee or tea? Neither! I am a fan of energy drinks though (don't tell my doctor).
Drag Race or Queer Eye? DRAG RACE!!!! Willow Pill is life.