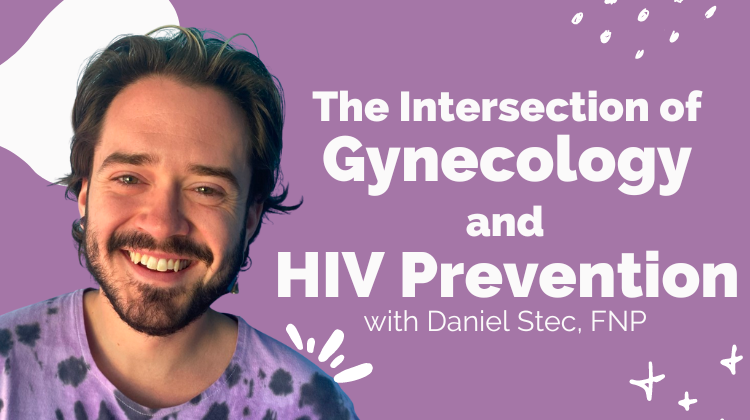 The Intersection of HIV and Gynecology
When people think of pre-exposure prophylaxis (PrEP), they primarily associate it with men who sleep with men (MSM).
However, this once daily pill that prevents HIV can also benefit women or other people with uteruses.
PrEP is for Everyone
Globally, nearly half of all adults living with AIDS are women. In the United States, women accounted for 19% of the new HIV cases, according to the CDC.
Marginalized people are at an even higher risk. "Black and Hispanic women account for 77% of HIV cases among women in the United States, although they represent less than 31% of people in the U.S. These disparities remain poorly explained."
Daniel Stec (he/they) is a certified nurse midwife and worked in the gynecological healthcare space for 6 years before he became a provider at Q Care Plus.
The practice Daniel worked at early on in his career wasn't providing PrEP, or even considering it for patients who were receiving reproductive care.
That all changed when he attended a midwifery conference and participated in a session about PrEP. He realized that many of his patients were at risk of contracting HIV, so he started learning more about PrEP and started prescribing PrEP to his patients. He also helped his practice adapt better standards for providing PrEP.
He found that many of his patients had never heard of PrEP, even though it had already been approved by the FDA for five years, back in 2012.
"The door is just starting to open more broadly to other people. Anyone can be a sexual creature. People participate in IV drug use. It's all about people, and we have to see everyone equally in that way. I started primarily seeing cisgender women for PrEP. Now, being at Q Care Plus, I am continuing this work. We can see anyone, it takes away barriers for people regardless of their gender and sexuality," Daniel said.
Education is Key
Why don't more people associate PrEP with reproductive or gynecological care? The biggest gap, Daniel says, is in education.
"I think particularly for people who don't identify as men, many providers are simply not talking about or offering PrEP. That's a big group of individuals without an access point. Also, in the perception of HIV exposure, many people still see it as a gay man's disease. For decades, most of the information or messaging around PrEP has been geared towards men. I think continuing to talk about HIV as we talk about any other STI and talking about risks for all people is important. We must have more primary care providers talking about it and offering PrEP services."
A Pill Regimen Might Be Easier for People with Uteruses
Women and other people with uteruses are accustomed to bearing responsibility around their own health. Taking daily pills is more commonplace for women. 64.9% of people who identify as women are taking a contraceptive, the most common of which is a daily, oral birth control pill.
Daniel says this makes encouraging women to start taking PrEP easier.
"If people are on birth control, they are already accustomed to doing more for their sexual health. PrEP is similar in the sense that it's a daily pill. The habits and practices of taking a pill regularly can be easier for people who need birth control," Daniel said.
Telehealth is changing the game for people with uteruses who want to learn more about their PrEP and other sexual wellness options.
"It's nice because more people have access to providers, like us at Q Care Plus, who specialize in PrEP and sexual health. Also, we are stigma free and there's no slut-shaming. We work in this field because we care about people's health, and we want to give them resources. It's important for patients to find providers who are going to remain neutral, support them, and talk through things no matter how many sexual partners they have. I have the support of my team, and any patient I see, I can find a solution for them," Daniel said.
Learn More
If you want to know more about your risk of contracting HIV, how to get on PrEP, or have other questions about how HIV impacts people, go to QCarePlus.com to create a profile and schedule an appointment with one of our providers, like Daniel!
Daniel Stec is a certified nurse midwife and family nurse practitioner based in the Midwest. Daniel worked in the midwifery field for 6 years before transitioning into telehealth care for PrEP and sexual wellness.